Escuela
Arquitectura
UC
Conferencia Skylar Tibbits
Extreme Environments Inhabitation

El próximo lunes 7 de agosto, en el marco del workshop que organiza Arquitectura UC junto MIT Chile y Universal Projects skylar Tibbits realizará conferencia en el Auditorio Arquitectura

Skylar Tibbits
Is a co-director and founder of the Self-Assembly Lab housed at MIT's International Design Center. The Self-Assembly Lab focuses on self-assembly and programmable material technologies for novel manufacturing, products and construction processes.
Skylar is an Assistant Professor of Design Research in the Department of Architecture where he teaches graduate and undergraduate design studios and How to Make (Almost) Anything, a seminar at MIT's Media Lab with Neil Gershenfeld. Skylar was recently named R&D Magazine's 2015 Innovator of the Year, 2015 National Geographic Emerging Explorer, 2014 Inaugural WIRED Fellow, 2014 Gifted Citizen, 2013 Fast Company Innovation by Design Award, 2013 Architectural League Prize, The Next Idea Award at Ars Electronica 2013, Visionary Innovation Award at the Manufacturing Leadership Summit, 2012 TED Senior Fellow and was named a Revolutionary Mind in SEED Magazine's 2008 Design Issue.
Previously, he has worked at a number of renowned design offices including: Zaha Hadid Architects, Asymptote Architecture and Point b Design. He has designed and built large-scale installations at galleries around the world, has been published extensively in outlets such as the New York Times, Wired, Nature, Fast Company as well as various peer-reviewed journals and books.
Skylar has a Professional Degree in Architecture and minor in experimental computation from Philadelphia University. Continuing his education at MIT, he received a Master of Science in Design Computation and a Master of Science in Computer Science under the guidance of; Patrick Winston, Terry Knight, Erik Demaine and Neil Gershenfeld.


Fecha_
Lunes 07 de agosto de 2017, 18.30 hrs.

Lugar_
Auditorio Arquitectura, Campus Lo Contador. El Comendador 1916, Providencia

Invitan_
Universal Projects (UP)
MIT MISTI Chile
Escuela Arquitectura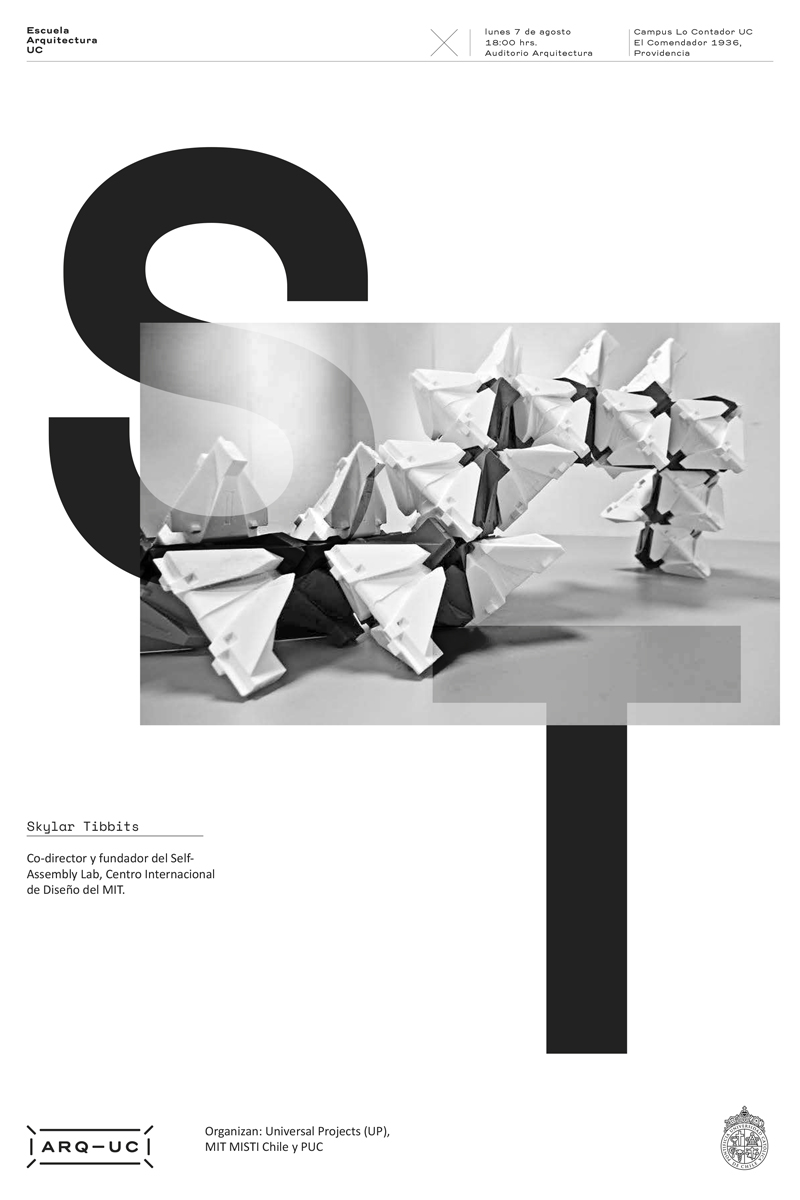 Evento gratuito abierto a todo público
Contacto: palomagr@ mit.edu |
www.arquitectura.uc.cl